I first met Ifeoluwanimi sometime in 2018 on Facebook , when she was still "Her Royal Majesty," and wrote poetry. Here, we talk about many things from the growth of her skincare business, to personal inspirations, and how she's navigating business in a pandemic-ally disrupted economy. Also about the challenges she faces as a brand owner, and the possible future of her brand. She does miss writing poetry, it has been long she "set pen to paper." Something spectacular about Ifeoluwanimi is her resilient spirit; she proves to be passionate about what she does, and is clearly focused on solving problems and correcting general misconceptions beguiling organic skincare products. Orchid Organics began during the first pandemic wave, and boy! They're making cool waves.
DANIEL OGBA: If I remember correctly, you, at some point, published a collection of poems. Tell me, what was it like then, having people read and engage with something you've created? How did you feel? In one word, what would you say the general reception was like then from the Facebook community ?
IFEOLUWA TOJOLA: (Laughs) It felt great! I was so proud of myself. You know, poetry was a hobby I found when my heart was broken for the first time, so going from the heartbroken girl to someone with a "copyright" felt really great. And the reviews and reactions I got from facebook made it better. I remember a certain man from Canada asked for my details, and sent me money. It was really encouraging.
DO: Wow! That's wonderful, really. Do you still write? (if no, do you miss writing poetry?)
IT: Sadly, I don't write anymore. Not because I made an intentional decision not to, it's just really been a long time since I put pen to paper. These days, when I see poetry, I do miss the good old days.
DO: I'm really curious; how did Orchid Organics start? What prompted you to venture into skincare business ? Has the idea always been there, or was it born out of a necessity ?
IT: (Laughs) Ah, this is a very long story! It was the beginning of a new semester, so I wanted to get enough skincare products for school because I don't like buying in school. So, I entered this shop, asked for recommendations and I bought a pack of the soap the shop owner recommended for me. I started using this soap when I got to school and it almost ruined me! It made my face so fair and my body very dark. At the time, I was contesting for a political post in my faculty so I had an "image to protect". I dumped the whole pack of soap in the bin and started DIYs. Google was my best friend. I made a soap for myself and before you know it, people started asking me for my skin plug. So I thought I could learn this professionally and do something with it. And so I went for professional training and Orchid Organics is here! (Smiles)
DO: Interesting. So it was borne of a personal need. What was it like when you started out? There must have been doubts and anxieties , What were they like, and how did you overcome these obstacles ?
IT: So many doubts and challenges honestly! The first question I had was, "who will buy from me?" You know there's this syndrome where people want to buy from companies and brands that already have a name. A known name. For some reasons, people buy popularity. So, that scared me. I wondered if anyone was going to be willing to buy from me that started skincare not too long ago. But then, I told myself everyone started somewhere and as much as people buy popularity, people buy trust, too. Trust and authenticity. If people believe in you, and you offer them value, they will buy.
DO: That's the resilience we need right there. Orchid Organics is about six months now (I'm guessing here), what has it been like being a certified business owner? In, say, a decade, what do you view would be the future of your business ?
IT: Orchid Organics clocked four months some days ago and it's been demanding than I imagined honestly, but it's been smoother than I thought too, if you know what I mean! (Laughs) In the next ten years, Orchid Organics is going to be a distinct household name. Distinctive for its goal of correcting the misconception "organic skincare" has become. The brand aims to correct the notion that organic skincare is a "fast-action, whitening and lightening business line".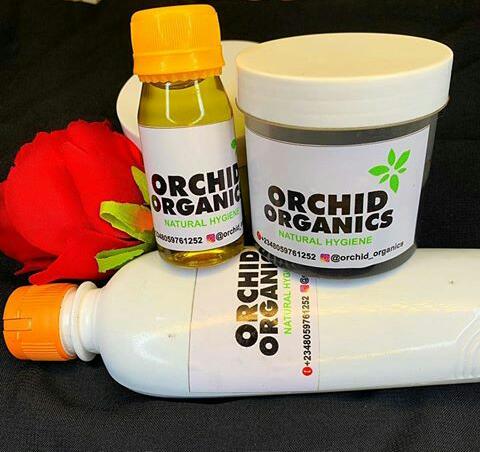 DO: I must say, I love the look of your skincare products , and actually can't wait to order, as I have no doubt of their efficiency . Your products boast of natural , manually sourced ingredients and fruits; how difficult or easy would you say access to these materials are?
IT: Raw materials sourcing is one of the most stressful areas in organic formulation. I start sourcing for my ingredients weeks before production. So far, I have never found all I need in one place. I usually order from Lagos, Abuja, Ilorin and Ibadan. The biggest mistake you can make as a formulator is to buy fake or adulterated ingredients, so you have to know your vendors and trust them.
DO: What three brands inspire you ?
IT: @kijaniorganics, @theskinpriest and @jennysglownigeria are my major inspirations. I stalk these pages on instagram.
DO: We're in uncertain times as a people , and nation; a global pandemic has turned our world as we know it, upside down. Some businesses are folding , laying off employees, grappling with a fast-crippling economy . While, for some businesses and individuals (side-eyes Dangote ), this seems to be THE season . Tell me, how has your business been disrupted or advanced within the course of this pandemic ?
IT: Well, the whole brand started during this pandemic so I'm sure that tells you something! (Laughing)
DO: You must be a billionaire by now, lol. I am party to the group (I know we're many) who believe entrepreneurs, or small-scale business owners are ballers i.e: rich people , since they don't have a payroll to finance, and most of their income, asides reinvestment funds, go to their pockets. Is this a misconception? When you compare your access to cash pre- and post- orchid, would you say there's been a tangible improvement finance-wise?
IT: Whaaaat!! That's not true. For small scale businesses, we are constantly trying to improve, so you see, all of our profit goes into expansion and growth. We are not ballers!
DO:  Which one person has been most influential to your work approach ?
IT: A friend, her name is Posh.
DO: At the moment , what are you learning , and of what relevance do you think it is to your work?
IT: Recently, I've been researching internal skin dysfunction. I think it would help my recommendations for clients.
DO: Random. When you were a kid, what did you always want to become?
IT: An activist.
DO: Really? Why?
IT: I wanted to become a woman and child rights activist, because I hate seeing these parties suffering. It breaks my heart how the society has normalized suffering.
DO: Fair enough. Do you remember the first business idea you had? What did you do with it?
IT: Yes, to sell thrift. I did it and it was great.
DO: A small game; date, kill, marry (replace with any celebritys' name)
IT: Date johnny drille, kill Davido, Marry Jon Bellion.
DO: What advice would you give to a friend interested in maintaining a healthier skin?
IT: The basic skincare routine is cleanse, tone, exfoliate, moisturize. Use products and brands whom you trust their ingredients and recipes and you're good to go.
DO: It was truly nice having this conversation with you, Ifeoluwa, and I wish you all the best in your brand's future . Stay jiggy .
*
Ifeoluwa Tojola is a third year student of Linguistics and African Languages, and the current vice-president of Faculty Of Arts Student Association, Obafemi Awolowo University, Ile-Ife. She's the brain behind Orchid Organics, a natural skincare brand that hopes to change the narrative of organic skincare in Nigeria by formulating hundred percent safe and effective products. Reach her on Instagram @orchid_organics. Or you can reach her via +2348059761252 or @tojolaifeoluwa10@gmail.com