Did you recently travel to Africa and can't get enough of it? Why not revamp your walls with a little Africa itself? Imagine your walls being covered with vibrant and bold hues of the continent along with a hint of wildlife. How great would that be?
When it comes to decorating walls as an African theme, a lot of items come into consideration. This could be handmade objects, African wall paintings, and the most important of all, i.e. African wall arts. To help you out, here are some African wall decor ideas for inspiration:
#1 African Wall Arts
First things first, you can try adding beautiful and trending canvas prints of Africa featuring visual cultures. Trust us when we say that! Those wall arts are absolute head turners. The blend of ethnicity with modernization would enhance the overall outlook of your walls! Besides, the burst of colors will add that oomph to home. For example, check out this wall art below.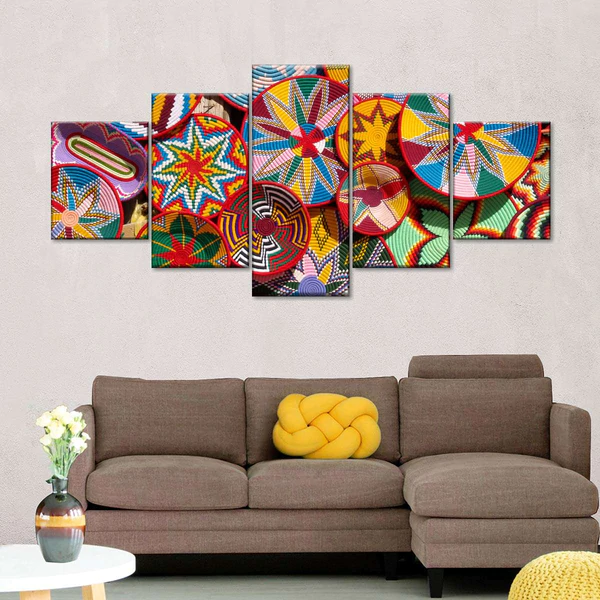 Could you see how vivid and colorful it looks? It would instantly remind you of the African lifestyle and traditions, which are equally colorful. Likewise, if you are a fan of their musical instruments, historical paintings, or sculptures, you can go for wall arts featuring the same.
#2 African Handmade Crafts
If you like Africa, you must know that their handcrafts are pretty famous! Be it their beautiful baskets, carvings, or wood carvings; if you add these pieces to your wall, they will look outstanding. You can go for simple African baskets made from traditional fibers representing their local habitat.
Note that most of these baskets are made from natural products like ilala palm, sisal leaves, African bamboo, etc.! So, yes, your walls would have something environment-friendly and artful to look into! Make sure to hang those baskets in a group of six on a vacant wall. We are recommending so because these items are quite attractive. However, you can hang it anywhere you like.
#3 African Wall Paint Designs
Besides adding beautiful items, why not give a permanent African touch to your walls themselves? Africa is popular for its rich culture and aesthetic values. Thus, you can select from various African patterns/designs to get painted on your wall. You can also choose something that you were inspired with.
For example, say you visited rural Africa and you were inspired by the efforts of woman farmers for sustaining their families. You can get a generic portrait of African women on your walls exhibiting their powerful persona. Likewise, you can also take inspiration from patterns and motifs of African art for your walls.
If you were inspired by their potteries and sculptures, you could get similar designs for walls. Trust us when we say that vintage colors along with African motifs look stunning in living rooms.
#4 African Animals on Wall
While you can't get real African animals, you can surely get their pictures on the wall. Africa is renowned for its rich wildlife, and there is nothing as appropriate as animals for adorning an African-themed wall.
Check out this art; for example, the portrait of Safari animals featuring elephants, tigers, and giraffe give that perfect feel of woodland at one glance. These are the perfect replacements for any antiques made from real-life animal skins or furs.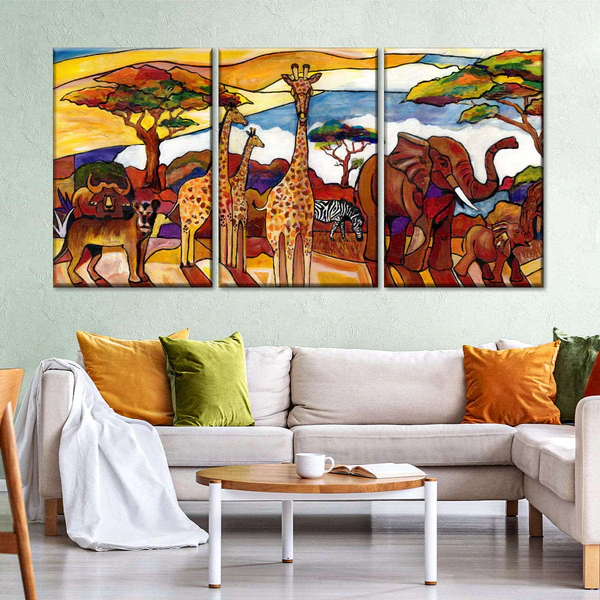 If not an animal group, you can go for art featuring individual animals that dominate in Africa. For example, you can choose only Elephant, Springbok or Giraffe-themed portraits exhibiting the diverse African wildlife. Those arts would look great on walls with African motifs.
#5 African Wood Carving
One of the best African-themed wall decors would be African wood carving. The traditional/tribal designs carved delicately on hard termite-resistant woods is the perfect example of artistry. A good balance of craftsmanship and detailing ensures an attractive item for decoration! It's best to buy wood carvings from Africa because that way you will get authenticity in the product.
However, if you can't do so, then don't worry! You can always get wood-carving themed wall art to adorn those walls. They will look equally beautiful and genuine as it does in real-time. Check out the art below, for example. Isn't it captivating to the eyes? Also, every part of this art looks so realistic. So, yes, something like this would make a good decor item for your wall.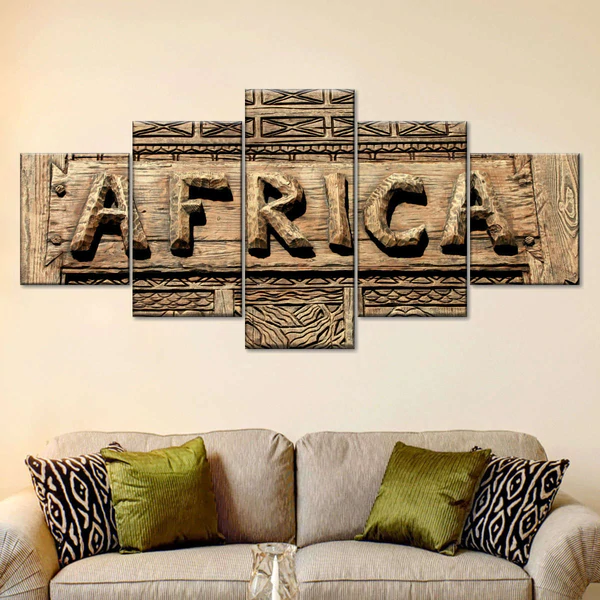 Conclusion
Now that you know about these impressive African wall decor items do not hesitate to give touch of the amazing continent to your home. It will surely take you back to your African vacation!