Chief Anthony Enahoro, Funmilayo Ransome Kuti, Ken Saro Wiwa, Ahamdu Bello and many more great Nigerian founders have two things in common with John, an innocent young hustler in Lagos continually being harassed by SARS, Nigeria's special anti robbery unit. You see? At a time in all these people's lives they believed in Nigeria and that is just the first thing they have in common. The second thing these people have in common is that Nigeria used it's realities to give them blows, betraying the love they had for Nigeria.
In 1953, Chief Anthony Enahoro became the first Nigerian to raise a motion for Nigeria's independence. Though his motion was rejected by the Parliament and saw a walkout by northern MP's, Anthony continued to be vocal about issues regarding Nigeria's independence. He was the chairman of the National Democratic Coalition, NADECO, a pro-democracy movement that fought Abacha's military regime till Abacha bit dust.
Enahoro's love for Nigeria cannot be questioned. As the minister (formerly known as federal commissioner) for information and labour in 1967, Chief Anthony reconciled Britain and Nigeria after Britain stopped supplying weapons to Nigeria in 1967 following reports of genocidal operations the Nigerian troops were committing in Asaba .
In January 2006, in an interview with Pini Jason, Enahoro stated that: "The trouble with Nigeria is monumental. The country's structures are wrong, its system of government is wrong". In October 2007, barely after Nigeria celebrated 47 years after independence, Chief Enahoro Anthony in the presence of journalists in Benin, Nigeria, stated, "This is not the Nigeria of our dreams". He further asserted that he would be betraying the past if he doesn't complain since he is probably the only surviving nationalist who fought for Nigeria's independence.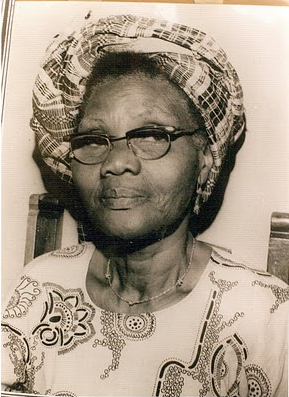 Funmilayo Ransome Kuti, the mother of Afrobeat legend, Fela Kuti, is usually remembered in the history books of Nigeria as the first woman to drive a car in Nigeria, but she was more. Funmilayo was one of the few women who was vocal against colonialism and gender inequality.
She was honored with a doctorate degree, the Order of the Niger, and the Lenin Peace Prize. She founded the Abeokuta Women's Union (AWU) to challenge the unfair treatment of market women in the south western region of Nigeria. With the organisation increasing its reach, the Abeokuta Women's Union changed its name to the Nigerian Women's Union (NWU) in 1949 and later to the Federation of Nigerian Women's Societies (FNWS) in 1953.
She created and led campaigns for more opportunities for women and girls. With her influence, she gave women a space to join in the struggle for Nigeria's independence with political parties. She was also one of the founders of the National Council of Nigeria and the Cameroons (NCNC), founded in 1944.
In February 1978, Nigerian soldiers stormed the Kalakuta Republic, a communal compound that housed Fela Kuti's family, band members and recording studio was attacked by almost a thousand soldiers who were in search of Fela because of his criticisms against the military led government. The soldiers got hold of Funmilayo, dragged her and pushed her out the window of the first floor leading to her death.
In Fela's words which was published verbatim by Carlos Moore in his book Fela: This Bitch of a Life, "Then, they grabbed my mother. And you know what they did to this 77-year-old woman, man? They threw her out the window of the first floor." This is how Nigeria paid Funmilayo Ransome Kuti.
Most of us already know the story of Ken Saro Wiwa, Ahmadu Bello and other great men. We know how they started out with love for Nigeria and how Nigeria failed them. From fighting by the side of Nigeria to facing the firing squad of the Nigerian troops, that was the story of Saro Wiwa. These stories we know, but do we know of John's story? Really, do we? You see? John represents every Nigerian youth in the streets of Nigeria. Take John as Chidinma who can't report sexual abuse committed against her because of the failed security system. Even closer, take John as Victor your neighbor who constantly stays at home 24/7 because there are no jobs, how he pays his rent and feeds is by "God's grace".
The Nigeria's Bureau of Statistics released the most recent data as of Q2 2020 and the stats are onions to the eyes. 27.1% of Nigeria's labour force are unemployed while 28.6% are underemployed. The unemployment rate has tripled and is predicted to get worse. All these leaves John with one question, "what is my future in this country, Nigeria?". And that question needs an answer.
Recently in April 2020, Seyi Akinade a promising undergraduate of the Federal University of Agriculture, Abeokuta, committed suicide after he couldn't deal with the continuous harassment from Nigeria's special anti robbery unit, popularly referred to as SARS. "I slept in a cell that night for doing nothing, police will slap you and beat you, and prisoners will beat you when you enter the cell too! I cried till the next morning not because I was sleeping in a cell for doing nothing, but because I was on a losing trade with thousands of dollars on the line and also because I was going to miss my project presentation which cannot be repeated. I was paraded like a thief in the morning and they were asking us what we did, with tears in my eyes I said 'nothing' they still slapped me and told me to admit I'm a fraudster without having anything incriminating on my phone!"
"That day I lost almost 20k$ trading and I missed my presentation in school. They still wanted to collect bail after beating and harassing us for nothing. Since then I've been in massive debt, I couldn't complete my education and my life has been in shambles and suicide has been the only thought on my mind every day. So in case I hurt myself and anyone is curious as to why I did it. This is my story," are Seyi Akinade's words on Twitter before committing the act.
His death sparked an online protest on social media platforms with the hashtag #justiceforseyi, and there ends it all. In the end John might be a hashtag and this probability comes closer by the day. Do you know how many hashtags have greeted the eyes of John? From #JusticeForRinji, #Justicefortina, #JusticeforTiyamiyu to the countless numbers of online protests, justice hasn't been served yet.
Kemi Falodun, Nigerian writer, recently launched POBIN (an acronym for Police Brutality in Nigeria). POBIN is a repository for stories of those who the Nigeria police have killed. Amnesty International has documented more than 82 cases of torture, ill treatment and extra-judicial execution carried out by the Nigerian rogue police unit, SARS, between January 2017 and May 2020. A couple of Nigerian activists launched the End SARS campaign to get the Nigerian government to disband the rogue unit The End SARS campaign started out as an online protest with the hashtag #ENDSARS but then grew into a series of protests in Nigeria's capital, Abuja.
In 2017, The Inspector General of Nigeria Police Force ordered for a reformation to be done in the rogue unit. Same year, the Nigerian Police Force said it has no intention of scrapping the unit and also accused activists campaigning for the scrapping of the unit as being "criminals". Senator Isa Misau also raised issues about SARS operations in Nigeria in that same year and the Senate president then, Bukola Saraki, called for something to be done against SARS. Yet, the Nigerian youths still find the rogue unit on the streets of Nigeria harassing them.
In the Global Terrorism Index 2019 report released on June 2020, Nigeria ranked as the third most terrorized country in the world, surpassing the likes of Yemen, Iraq, Syria and more. Nigeria does not even appear on the list of the top 20 most developed countries in Africa . The country has a debt of $79.5 billion as of the first quarter of 2020.
For young people like John who went to bed as kids dreaming about serving Nigeria and living the Nigerian dream after being told stories of Nigeria's glory by  the elders of Nigeria. Stories of how Nigeria is the giant of Africa and how Nigeria is the most powerful black nation. One thing is sure, John has grown to realize that there is no Nigerian dream and that if anything, the Nigerian dream is to live the Canadian dream.